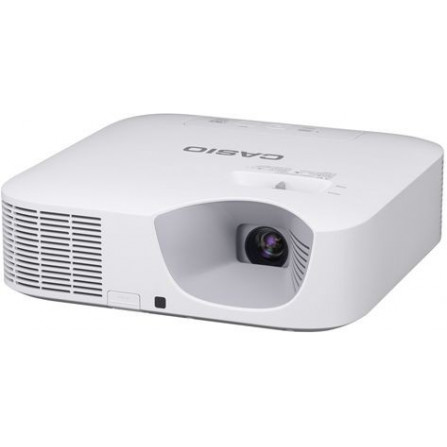  
Casio XJ-V100W DLP LED Projector WXGA 3000 ANSI
Singapore Registered Business. Local office & Support.

All products come with Local Singapore warranty.

Fast Delivery within Singapore
Casio XJ-V100W DLP LED Projector WXGA 3000 ANSI
Model: XJ-V100W
Resolution: 1,280 x 800 pixels (WXGA)
Brightness: 3,000 AL
Contrast: 20,000 : 1
Weight: 7.7 lbs / 3.49kg
Entering a new era of Solid State Illumination Light Source Projectors.
In 2010, CASIO became the first company in the world to develop a Laser & LED Light Source for projectors. Developed in response to the environmental, economic and utilitarian needs of the era, this Solid State Illumination Light Source technology is being quickly diffused throughout the projector industry as the new light source standard. CASIO can look forward to continued growth in an expanding market as the leading manufacturer of Solid State Illumination Light Source Projectors.
Laser & LED Light Source Technology
It began with CASIO's original development of an optical engine combining a high-luminance blue laser with a red LED. The high projection efficiency realized through outstanding energy-saving technologies and optical block optimization led to achievement of high brightness projection and lower energy consumption as compared with mercury lamp systems and other solid-state light sources. Product downsizing was achieved, moreover, with the help of freer design layouts and original high-density mounting technologies. The unique evolution of projectors that promise to establish new standards for the next generation continues.
Model

XJ-V100W

Technology: 0.65" DLP® chip (WXGA)
Resolution: 1,280 x 800 pixels (WXGA)

Type: Laser and LED hybrid technology
Service life: Up to 20,000 hours
Brightness: 3,000 AL

Contrast: 20,000 : 1
Colour depth: Up to 1.07 billion (full colour)

Technology: 1.5x optical zoom
Projection ratio (viewing distance:width): 1.32-1.93:1
Offset: 33%
Min. distance: 0.83 m
Focus: Manual

Size of the projection screen:: 35" (0.89 m) to 300" (7.62 m)
Viewing distance 60" screen: 1.64 m to 2.42 m
Viewing distance 100" screen: 2.81 m to 4.11 m

Vertical (manual): + 30°/ ± 30°
Vertical (automatic): + 30°

Computer: 1 x 15-pin D-Sub (VGA)
Digital input: HDMI port
Audio:
Input terminal: 3.5 mm stereo mini jack x1
Output terminal: 3.5 mm stereo mini jack x1 (variable audio input)
Control inputs: RS-232C
Other/further inputs:
Micro-USB type B: firmware update

Direct power on, direct power off, rear projection, freeze, blank screen, ceiling mounting, (4x M4), digital zoom (2x), presentation timer, password protection feature

Max. resolution (compressed):
Computer: 1,920 x 1,200 pixels (VGA)
Digital input: 1,920 x 1,080 pixels (Full HD 1080p)

Dimensions (W x H x D): 299 x 97 x 299 mm
Weight: 7.7 lbs / 3.49kg
Casing/colour: White
Operating temperature: 5 – 35°
Warranty: 3 years Parts & Labor Carry- In for Projector Main Unit
Lamp Warranty: 3 years or 6000 hour warranty, whichever comes first
Reviews
No customer reviews for the moment.