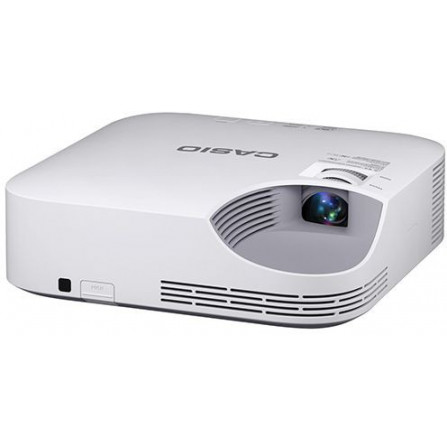  
Casio XJ-V1 DLP LED Projector XGA 2700 ANSI
Casio XJ-V1 DLP LED Projector XGA 2700 ANSI
Model: XJ-V1
Resolution: XGA (1024x768)
Brightness: 2700 Lumens
Contrast: 20,000 : 1
Weight: 2.8kg
Singapore Registered Business. Local office & Support.

All products come with Local Singapore warranty.

Fast Delivery within Singapore
Casio XJ-V1 DLP LED Projector XGA 2700 ANSI
Model: XJ-V1
Resolution: XGA (1024x768)
Brightness: 2700 Lumens
Contrast: 20,000 : 1
Weight: 2.8kg
With TCO substantially reduced by their long-life light source, low energy consumption and filter-free design, CASIO Lamp Free projectors afford a wide range of value for use in everything from business to education.
Total cost of ownership (TCO) includes not only the projector's purchase price but also all the expenses incurred during its lifetime of operation. CASIO's original SSI* light source with its extremely long lifetime of 20,000 hours and low power consumption realizes exceptional cost performance compared with conventional mercury lamp projectors through savings on expenditures for lamp replacement and the associated labor and lost operating time as well as for electric power.
CASIO projectors are equipped with an SSI* light source employing the mostadvanced light source technology. Although the use of mercury is widely prohibited worldwide today, this hazardous substance continues to be employed as a light source for conventional projector lamps. CASIO has eliminated the use of mercury from its products in consideration of the environment. Adoption of an SSI light source, combined with CASIO's original energy-saving design, also contributes to reducing CO2 emissions.
CASIO projectors achieve a startup speed far exceeding that of conventional mercury lamp projectors. Free from the conventional projector's need for both warm-up and cool-down time, moreover, they also achieve a fast, convenient restart after use.
The structure with its square form and flowing curves exemplifies contemporary design excellence. The compact projector body assures easy portability for every user.
Product Name
XJ-V1
Resolution (Native)
XGA (1024x768)
Brightness
2700 Lumens
Contrast Ratio
20,000 : 1
Light Hours

20,000 Hours

Keystone Correction
"Vertical (Manual) +/- 30° "
Sound Output
-
Optical Zoom
1.1X
Throw Ratio
1.54 - 1.71 : 1
Projection Screen size
30" - 300"
Throw Distance
60" @ 1.79m to 1.99m
80" @2.43m - 2.70m
100" @ 3.07m to 3.41m min range: 1.24m
Computer Input (D-sub 15pin)
1X
Monitor Out
-
RS-232C
1X
HDMI
1X
Wired LAN (RJ45)
-
USB Display
-
Wireless
-
Start- Up Period
< 5sec
Cool Down Period
Instant Off
Dimension (W x D x H)
270 × 270 × 89mm
Weight
2.8kg
Network Projection
-
Unique Selling Features
LampFree Technology |
Vertical Projection |
Intelligent Brightness Control |
Filter Free Design
Warranty: 3 years Parts & Labor Carry- In for Projector Main Unit
Light Hours 3 years or 6000 hour warranty, whichever comes first
Reviews
No customer reviews for the moment.