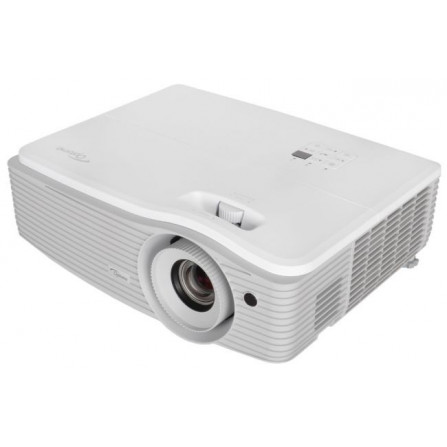  
Optoma W502 DLP Projector WXGA 5000 ANSI
Optoma W502 DLP Projector WXGA 5000 ANSI
Model: W502
Resolution: WXGA (1280 x 800)
Brightness: 5000 ANSI Lumens
Contrast: 15,000:1
Weight: 4.6 kg
Singapore Registered Business. Local office & Support.

All products come with Local Singapore warranty.

Fast Delivery within Singapore
Optoma W502 DLP Projector WXGA 5000 ANSI
Model: W502
Resolution: WXGA (1280 x 800)
Brightness: 5000 ANSI Lumens
Contrast: 15,000:1
Weight: 4.6 kg
Optoma W502 was designed to deliver unsurpassed performance and reliability to meet your installation needs. Its powerful 5,000 lumens output and impressive 15,000:1 contrast ratio deliver remarkably bright presentations with sharp text and color-rich graphics. To ensure it will perform to your needs, the W502 features a comprehensive I/O panel and advanced features. HDMI for digital connectivity, over-the-network presentation capability, wireless presentation capability via optional USB dongle, vertical lens shift and discrete audio inputs including microphone input for maximum installation convenience.
DLP® technology from Texas Instruments® is widely recognized and acclaimed for its unmatched reliability and long lasting image performance. When combined with high brightness and native contrast ratios, it becomes the obvious choice for demanding applications. Independent testing has proven DLP® to be the most reliable of projector technologies. Whilst other technologies may show image quality decline after only a few thousand hours, DLP® technology can remain unchanged over hundreds of thousands of hours. Images remain accurate, and colors suffer virtually no degradation over time.
Designed specifically for larger meeting rooms and lecture theaters, this projector includes a special DICOMsim mode that has been specially tuned for viewing grey-scale images, perfect for viewing X-rays and scans during medical training.
Vertical lens shift gives you the ability to move the projected image up or down, while keeping the projector stationary. This makes it easier to position the projector in your room and enables a wider range of screen size options.
Display Technology

Texas Instruments DLP® technology / 0.65" 1080P DMD Chip

Native Resolution

WXGA 1280 x 800

Brightness (Bright Mode)

5000 ANSI

Contrast

15,000:1

Lamp Life

(hrs)

Throw Ratio

1.48~2.35 :1

I/O Connectors

HDMI x 3 VGA x 1 Video x 1 VGA Out x 1 Audio In x 2 Audio Out x 1 RS232 x 1 RJ45 x 1 3D VESA Port x 1 USB Charging x 1 USB Service x 1

Speaker (Watts)

16W x 2

Keystone Correction

Vertical ±30° , Horizontal ±30°

Weight (kg)

4.6 kg

Dimensions (W x D x H) (mm)

36.9 x 29.5 x 13.2 cm

Aspect Ratio

16:9 & 4:3 Compatible

Projection Screen Size

25.66" - 300"

Projection Distance

1.2m -10m

Maximum Resolution

1280 x 800

3D Compatibility

Video:480i& HDMI 1.4a Blu-ray 3D
Computer:1280x720/1024x768/800x600@120Hz

Displayable Colours

1073.4 million colors (10bit)

Noise Level (Eco mode)

30 dB

Optional Wireless

No
Warranty: 3 Years Limited Warranty
- 1st on-site warranty on parts and labour
- 2nd and 3rd years - carry-in warranty
Lamp Warranty - 1st year or first 1000 hours whichever come first
Reviews
No customer reviews for the moment.